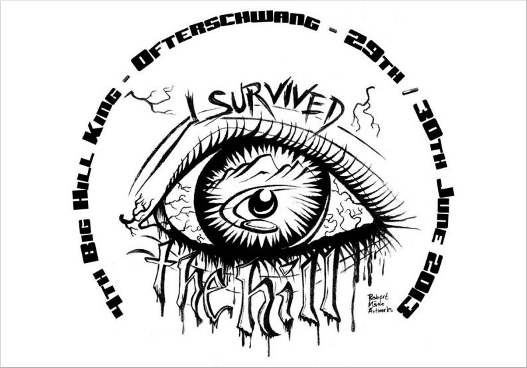 10.3.2013 | Paul Davies. One of four A-tournaments within the German Tour 2013 and simultaneously sanctioned as a Professional Disc Golf Association B tournament, the 4th Big Hill King is set to attract ambitious and international players working to improve their GT and/or PDGA ratings. Does this however leave room for Joe Normal? Of course it does.
Registration for qualified players at the 4th Big Hill King (29/30th June) in Ofterschwang is already under way. If you haven´t already signed up, then do so and prepare for a feast of treats! (Paid players on the waiting list will be moved to a starting spot from the 30th March).
Players can expect the usual thrills of the Canyon fairways (Did it go in? How do I get down there?) and can hope their discs won´t sail over the top of the first basket… and continue sailing on down that steep damn hill (which really could have been prevented!) Maybe a rattle of chains will be the reward for some players who "Ace" the 12th fairway over the pond. Height differences up to 41 meters (fairway 2) provide for sporting value. Open mountain pastures and alpine forest are sure pretty though that does not make the course of the Big Hill King easy. A physically enduring round is for many also the reward and great enjoyment. The lay of the land on the "Hill" can stretch a player´s performance. But whatever happens, in Ofterschwang you will be satisfied!
Ofterschwang still belongs to the secrets of the South, thriving on a growing popularity. This is in part due to playing host for the best of the best: reigning World Champion Paul McBeth was two years ago with his colleagues David Feldberg (8x World Champion) and Nikko Locastro in the Allgäu.
English TD Paul Davies has demonstrated with 4 season´s experience in organising tournaments that presenting a natural, well maintained and easily navigable course (fortunately) in beautiful surroundings is good enough reason for the rise in popularity of these events. Presenting a good image reflects on the sport and the people that love to play. New Tee-Pads on regular fairways 6 and 7 will be installed before the first tournaments and ALL Tee-pads will be non-slip carpet.
More Great News!, Lunch got cheaper at the BHK! All thanks to the ODGP (Oberstdorf Disc Golf Punks) and the Viktoria Hotel in Rubi, Oberstdorf for providing sustenance and support! Coffee and cake will as usual be available at no cost.
Prize Money is set at 250 Euro. A BIG Thank You goes to the DGA for implementing our very cool tournament logo on Custom Pro-Line discs and providing Promotional material and prizes. The Tournament winner, suitably dressed in "Kingly" crown and robe, will receive a Mach Lite Basket as trophy! Medalists from each division will receive one of 4 Custom Pro-Line models from the Disc Golf Association: Hurricane, Rogue, Aftershock and Reef. (ALSO AVAILABLE FOR SALE AT THE 4th BIG HILL KING).
As in previous years prizes will be awarded for CTP during the first three rounds. Cost for the Ace Pool is 1 Euro… added to that from last year´s "No-Ace 3BHK", well that´s a pleasant surprise for someone! Let the Ace Race begin!
The customary Saturday Evening Meal and Karaoke may have a different venue this year, but players can relax and enjoy healthy food and good company before the Big Hill´s Next Superstar begins! Karaoke follows the meal at the Schiff Restaurant in Bihlerdorf from 7 o´clock.
To summarise then, I get asked what´s special about Ofterschwang. I answer "Come play and see." But ask yourself … "Can you survive the Hill"?!
Tournament Details: www.frizbee.at
Registration: https://gto.ec08.de/events/details/487