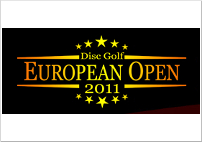 14.7.11 | Annariikka Marttinen. Disc golf is probably the fastest-growing sport in Finland at the moment, and the end of July is the best time of the year for the nation's tens of thousands of disc golf enthusiasts, as the 4th edition of Disc Golf European Open will be held in Finland between July 20-24, 2011. The best players from all over the world come to Nokia to compete, among them the top-ranked American players, and the best of Europe and Finland.
In the past, European Open has taken over Epilä Disc Golf Park three times, but this year EO will be held in the most majestic location in the history of the event, at Nokia Sports Centre Park. A part of it an old botanical garden, the park offers unique facilities for both playing and watching disc golf. The park and the nearby Nokia Ice Hall functioning as the tournament centre will also be able to fit the largest crowd in the event's history.
"The tournament will be webcasted daily via international disc golf media, so it will reach an audience well beyond the borders of Finland", says Jussi Meresmaa, Tournament Director and a Finnish disc golf legend.
Over 160 players fight for a purse of over EUR 20 000
The tournament week starts on Wednesday 20 July with the Presidents Cup team competition, where the two disc golf continents, Europe and the US, compete for the Cup. The European Open tournament starts on Thursday, and after three rounds and the final round on Sunday, the winner of this year's European Open will be announced. The players will be fighting for a prize purse of over EUR 20 000.
European Open gathers over 160 top players from 11 countries. The top 3 players of the world, Nikko Locastro, David Feldberg, and Paul Ulibarri will make sure that the recently published tournament course, "the Beast", will feature top scores. Feldberg won the competition in 2006, and the European Open winner from 2009, Jesper Lundmark, will also be playing this year. From the Finnish side, Nokia will be the playground for the new generation of top Finnish disc golfers like Seppo Paju, Teemu Nissinen and Leo Piiroinen, all under 18 years old.
Nokia Disc Golf Park is open to spectators throughout the tournament
For more information on the tournament, check out the tournament website
https://www.opendiscgolf.com and the European Open Blog
https://europeanopen.tumblr.com/.