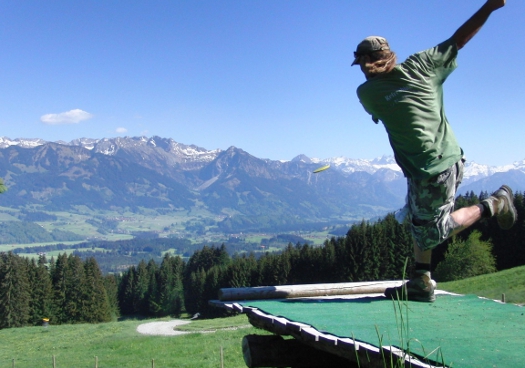 2.6.2012 | Paul Davies. Since 2009, Frizbee.at – Disc Golf Allgäu has witnessed global recognition for hosting both recreational and competitive tournaments with stunning views over the Allgäuer Alps and the Illertal. The course offers entertainment for players of all standards from local to international levels on steep forested terrain and mountain pastures. It is simply a pleasure to play there!
The success of the Allgäu Open concept 2012 with 2 German Tour C-Tier tournaments over the Pfingst-Weekend emphasizes the appeal of a 2 day event in the south of Bavaria as a worthwhile event to add to any disc golf player´s calendar.
The Big Hill King has been a topic of many conversations. After much positive critic I have listened to your comments. I wish as you do to further the reputation of every Disc Golf course, tournament and general image of the sport, especially in Allgäu, as a fun, inexpensive and physically rewarding event for all standards of registered DFV player.
Disc Golf is your game, and we in Ofterschwang support your game. We hope that you will find the 3rd Big Hill King (30th June – 1st July 2012), a 2 day B´Tier tournament, in beautiful Allgäu, even more attractive…
Please note the following changes:
1. Startgebühr is now only 20 Euro for ALL Divisions! Players who have already transferred money will be refunded the remainder at Registration on the 30th June 2012.
2. NO Prize Money.
3. A "token" Player´s Package" is included.
No changes will be made regarding Lunch this year. Players should pay for their food at Registration on the 30th June 2012. Please be sure to check your lunch options on GT-Online, and give Paul early enough notice of any changes.
Other changes:
– Fairway 5 extended 6m, Fairway 8 extended 10m, Fairway 12 shortened with straight view over the Pond, Fairway 14 Tee Pad 10m further back. Don´t forget… Fairway 9 is the "Insel-Bahn"! And then there´s the canyon…
– Mandos only on Fairway 6 (Halb-Final – 7). No other Mandos
– Open Finalists get to play a Final similar to the Allgäu Limited. Exact details will be explained to finalists at a quick players meeting before the final commences…
– CTP in EVERY round! Disc Dry Towels as prizes…
– Ace Pool… 1 Euro per player (41 Euro still in the pot from 2011 BHK)
Additionally, players can at last enjoy using the 4 new wooden platforms as Tee Pads on the regular forest fairways 9, 11, 12 and 13.
For a copy of the COURSE PLAN, (amended 010612) visit our website.