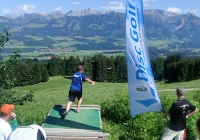 16.5.2012 | Paul Davies. Both tournaments are looking fully booked up! Michael Fischer has had to increase the flights to 5 players instead of 4 because of the interest shown. That will bring a few more smiles to nine of the lucky ones who can still join in at Bad Wörishofen! Ofterschwang has 2 free Startplaces left. I guess players like the idea of a weekend disc golfing in Allgäu! Great stuff!
For the players that have registered and take part in both tournaments that weekend, it´s a lot of mileage on the greens but little mileage between the greens! Three rounds of 14 holes on a mountain, BIER-PAUSE, then the next day 4 rounds of 9 holes (actually 2 x 18) on the flat!
The journey between BW and Ofterschwang only takes an hour by car!
The course in Ofterschwang has been changed slightly for the 1st Leg on Sa. 26.05: Fairways 1, 4 and 10 have been extended. The basket on fairway 1 now stands 10 meters back, directly on the edge of the ridge. The basket on fairway 4 is also 10 meters further. The Tee on fairway 10 has been set 10 meters further behind the regular Tee. The only Mandatory to be enforced at 4AO is on fairway 2… there will be NO other Mandos.
One CTP will be played on each round in Ofterschwang with great prizes from the DGA for the winners.