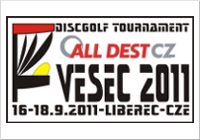 17.8.2011 | Matthias Masel. Die tschechischen Disc Golfer laden ein nach Liberec zum Vesec Open 2011, dem größten Turnier des Landes. Letztes Jahr rangen 42 Spieler aus der Slowakei, Polen, Deutschland und den USA mit den einheimischen Teilnehmern den Sieg. Dieses Jahr sollen es noch mehr werden. Wer ist dabei?
Dear discgolf lovers!
We would kindly like to invite you to VESEC OPEN 2011.
PDGA tier C.
LOCATION:
The course is located in Liberec (Vesec),about one hour from Prague by car, about 2 hourn from Dresden, 4 hours from Berlin, 5 hours from Wien and Linz and 6 hours from München and 8 hours from Dortmund.
REGISTRATION INFORMATION:
Starting fee 9 Euros (pay for rent a area + including federation fee)
Number of participants: 72
Course Par: 63
T-Shirt 
 Price 13Euro (sizes S,M,L,XL,XXL) – WRITE YOUR SIZE
3×18 holes + 9 holes final top 5 Open
Sleeping on course – WRITE HOW MUCH NIGHTS to note
Pizza on Saturday – if you are interested – write in note (ham/veg)
Registration ends on thursday, September 15th
PROMO VIDEO: http://www.youtube.com/watch?v=m44Ib2Ksffc
ACCOMMODATION:
Accommodation is provided into area – 8euro/night/person (you must have sleeping bags and sleeping pag)
Other accommodation – hotel pytloun http://pytloun.hotel.cz (20euro/person/night)
http://www.hotelimpuls.cz (euro/person/night) and other…..
Saturday lunch:
1)Pizza (6euro)
2)Lunch in a restaurant PYTLOUN (5min by car)
Have you questions? Send e-mail to: pavelbruckler @ seznam.cz
DATE AND TIME:
09:00 – course open for practice
16:00 – Tranining round or doubles (best shot)
Saturday 17th
08:15 late registration of players
09:00 players meeting
09:30 tee off round 1
12:30 lunch break
14:00 players meeting round 2
14:30 tee off round 2
Followed by Players Party
Sunday, 18th
08:30 players meeting
09:00 start round 3
12:30 lunch break
13:30 finals – 9 holes top 5 kat.Open + top 3 kat.Women + top 3 Juniors
immediately followed by price giving ceremony
First time in Czech DG league we will have price money!!!!
It will be nothing special, but its first time
)))
Cat Open:
1st – 300Kč/12euro
2nd – 200Kč/8euro
3rd – 100Kč/4euro
Cat Women:
1st – 200Kč/8euro
2nd – 150Kč/6euro
3rd – 100Kč/4euro

Registration: HERE